In Thessaloniki, the '11th International Culinary Competition of Southern Europe' was held from March 1st to March 4th as part of the International Tourism Fair, HELEXPO. This is a famous festival which is a part of the calendar of the World Association of Chefs Societies and is organized by the Chefs Association of Northern Greece and the World Association of Chefs Societies (WACS).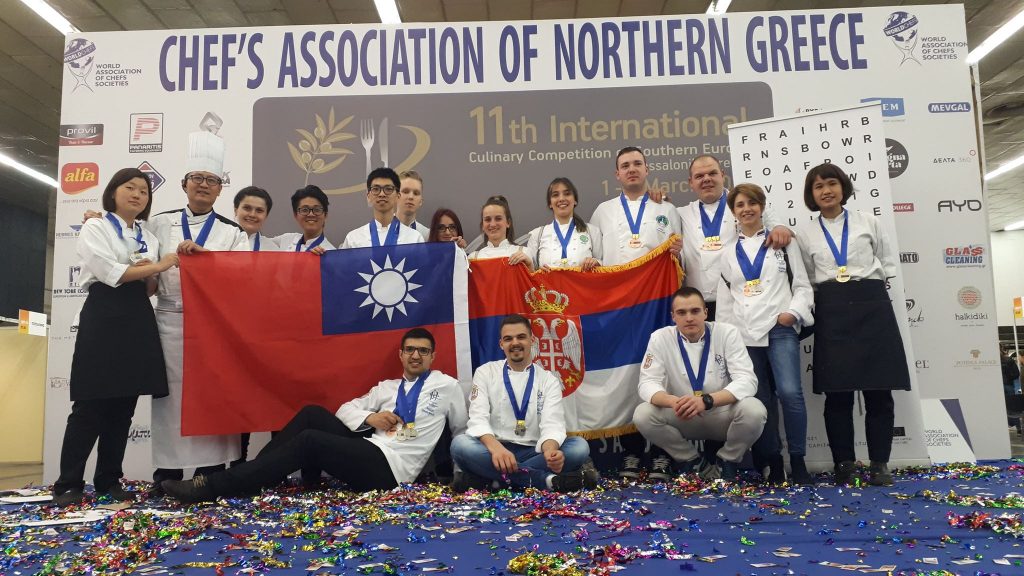 Our team from the Department of Geography, Tourism and Hotel Management, the Faculty of Sciences in Novi Sad, achieved outstanding results – three medals and one certificate of merit. Danica Rinčić won a silver medal in the pasta category, Aleksandra Dimitrijevic won a bronze medal in the risotto category, Miloš Kuzmanović won a bronze medal in the risotto category, and Tatjana Bodvoji won a junior merit award in the vegetarian dish category.
Maja Banjac, Teaching Assistant at the Chair of Gastronomy, won a bronze medal in the senior category – poultry dishes. Maja was the only female contestant in the category, and competed with two national team members and four professional chefs from prestigious catering establishments from Ukraine, Lithuania, Taiwan and Greece.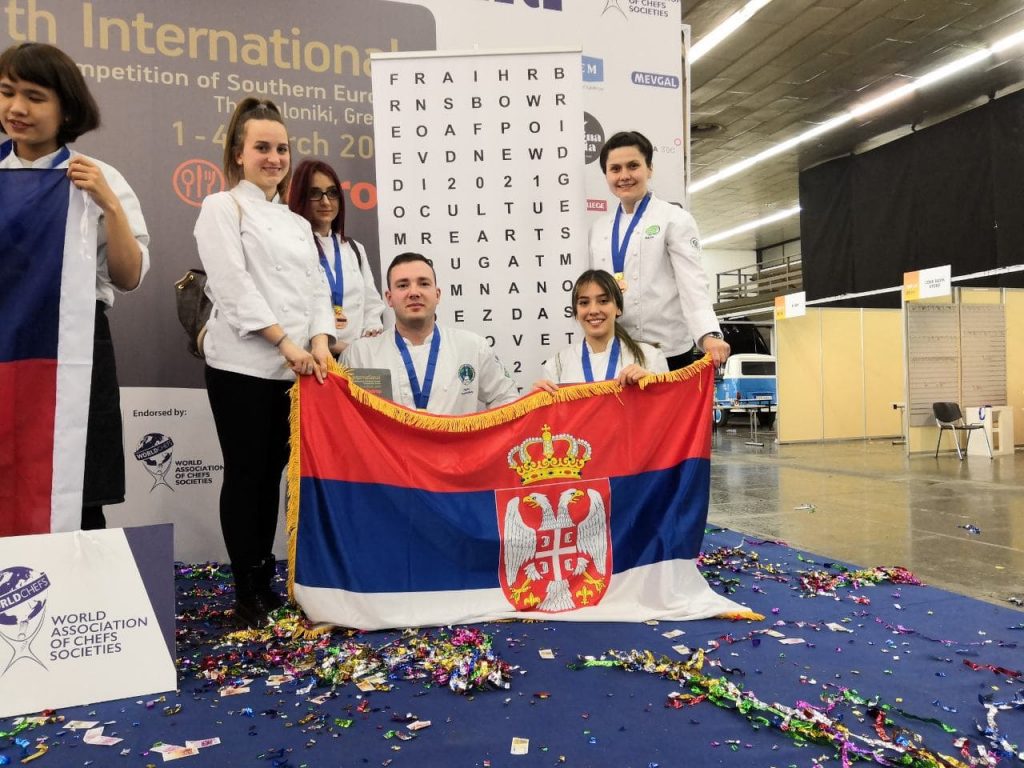 One of our team's objectives at the competition was to promote authentic food from Vojvodina. The dishes for the competition were prepared in a modern way from local food products: mangulica (Mangalitza) bacon, wine from Fruska Gora, fungi from Fruska Gora, carrots from Begec, cheese from Sombor, wheat, proso millet. Our gastronomy team's objective to promote local products at this prestigious competition was supported by the Foundation 2021, Novi Sad – European Capital of Culture. Students were mentored by: Goran Radivojevic, Skills Teacher, Dr Bojana Kalenjuk, Assistant Professor and Maja Banjac, Teaching Assistant.
There were over 2,000 contestants from 29 countries at the competition. The judges were renowned, well-known in the world, with the highest judging licences given by the World Association of Chefs Societies (WACS): Roberto Beltramini (Luxembourg), Tony Chang (Taiwan), Victor Orn Andresson (Ireland), Eric Wong (Singapore), Thomas Kuster (Switzerland), Svetlana Riskova (Latvia), Joachim Mueller (Sweden), Nikolas Konstantinou (Cyprus), Nikolaj Crump (Denmark), Georg Wallig (Germany), Marco P. Bruschweiler (Switzerland, Thailand) and Argiro Barbarigou (Greece). On behalf of the World Association of Chefs Societies (WACS), in addition to the mentioned distinguished members, there was the President of WACS Thomas Gugler.